Sabbath
Sabbath School: 9:30 am
Worship Service: 11:00 am

Wednesday
Prayer Meeting: 7:00 pm
 
The Spanish Group was founded 17 years ago and began as just a Sabbath School program. On May 5, 2001, the group met for the first time offering a full service in a Pentecostal church loaned to us by the help of brother Juan Neira, a lay pastor. Currently, it meets in the preschool room at Simi Valley Seventh-day Adventist Church.

As the group grew, it saw the need for a second service, since a good number of attendees spoke little to no English.  While lay pastor, Ignacio Sevilla, preaches regularly, the group also invites other people to preach, men and women alike.

Look for information regarding the upcoming evangelistic meetings featuring Pastor Dan Robles, coming soon!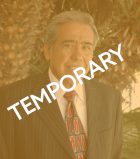 Ignacio Sevilla, Director
---
Ignacio was born in Jalisco, Mexico in December 1941.  He immigrated to the U.S. in 1958, along with his parents and six siblings.  He met Nellie Orozco in April of 1961 and they were married the following year in August.  Although Ignacio was raised Catholic, on February 14, 1976, he and Nellie entered the baptismal waters together, Ignacio converting to Adventism, and Nellie reconsecrated her life to Jesus.  Ignacio has served as deacon, head deacon, Sabbath School teacher, Assistant to the Dorcas Society, elder, and head elder.  Ignacio and Nellie have four adult children, ten grandchildren and two great-grandchildren.